Ceiling: From AC to Sunroof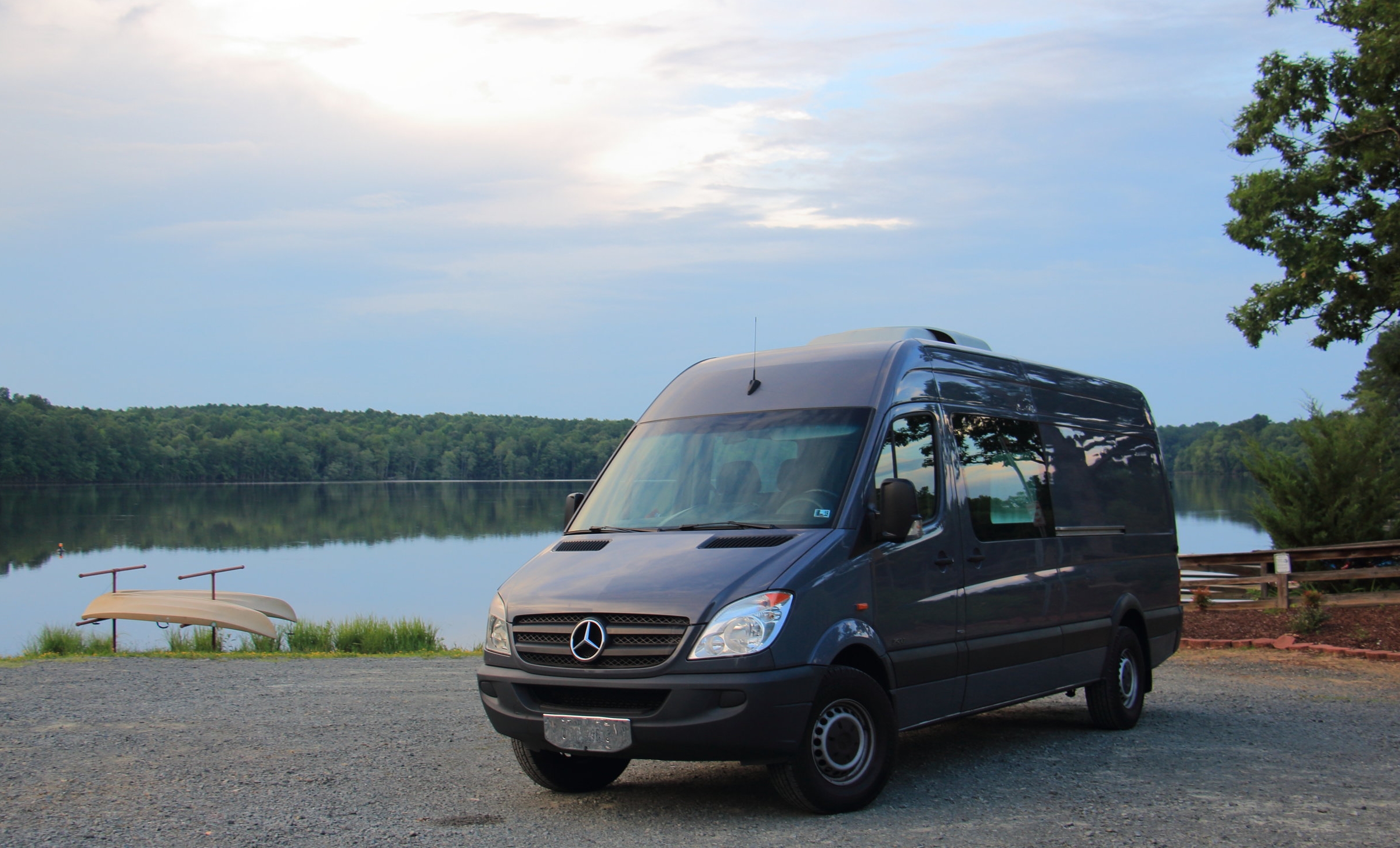 CEILING: FROM AC TO SUNROOF
Our 2011 Sprinter crew van came with a rear, roof-mounted air conditioning unit. We initially thought it was a total bonus. But the first time it rained, we quickly realized it was actually a leaking disaster.
After some research, we learned that lots of Sprinters around our model year have a leaky rear AC. (So if you're looking to buy a 2007 - 2012 Sprinter that has a rear AC, definitely inspect the rear headliner for obvious water damage!) According to sprinter-source.com fixing the rear AC is not easy.
We eventually decided on removing it for three reasons:
We didn't want a gushing leak
The rear AC only works when the engine on (which isn't helpful for significant time off-grid)
Perhaps most importantly, the AC unit lowers the available headroom in the back, and Nick kept bumping his head on it. (He's 6' tall.) Headroom was a key reason we bought a Sprinter, and since the unit hung right smack in the middle of our future living room, we figured getting rid of it altogether (professionally) was the right choice
Of course, removing the rear AC would leave a giant hole in the van's ceiling, plus three small holes where its hoses went (more on them below). After much thought, we decide to replace the rear AC with a CR Laurence 17" x 32" pop-up sunroof.
BEST. DECISION. EVER.
CR Laurence is really well known for its vented Sprinter sliding door windows, but their sunroofs are just as nicely designed. The glass pops off, leaving a relatively large opening in the roof that lets us easily climb up to the van roof. It's also great for ventilation and natural light, especially during dull, cloudy winter months. You can prop it open at a slit so you get the benefit of airflow without loosing too much heat. And it allows natural light to beam down into our tiny home each morning, even when our side windows are blacked out.
Leaking is always a potential concern, and we've certainly noticed some drops even though we had the sunroof professionally installed. Wedging an old cable into the gasket helps short-term because the cable pushes the gasket in for a better seal. I won't sugar coat it: adding anything into the ceiling, especially a big piece like the sunroof, is always a risk for leaking – whether it's worth it, YMMV.
The sunroof glass is also a potent source of heat loss – not great when living in colder climates like Canada. We lined the ceiling bead board around it with neoprene, then made a hatch that we can shove into the ceiling cutout to make a relatively solid ceiling. We lined the hatch with 2" rigid foam and Reflectix, then trimmed it to fit and seal all the sides. The hatch is held up by a few metal latches when in use, and tucked away when not needed.
Even with some leaking, we're super happy that we made the swap from rear AC to sunroof.
Removing the AC lead to three or so holes where the tubing went, so as we were driving into rainy Vancouver patching those holes up became a priority for us.
We consulted a body shop in Kamploops, BC, who very kindly told us that we could use little metal patches and sealant to do it ourselves. The cost at the shop would be over $1k, and they told us pretty straight up it wasn't worth it. (Nice Canadians!) So we asked them for a list of supplies for DIY, which they kindly provided:
Small stainless steel patches, which we got from a local shop for a 6-pack of beer :D
The adhesive required a special application tool, which the local auto shop LORDCO basically lent to us (the store said we could return the tool as long as it's in good condition. SO NICE!)
It was incredibly hard working with the adhesive at -12C, and we actually had to put it in front of our space heater to warm it up until it flowed more smoothly. The first few times the pressure was so large it blasted off the applicator.
To patch the holes, we waited for a dry day, which wasn't easy for British Columbia in the fall.
We first hung up tarps to protect the rest of the van from debris. Considering we were currently living in it at the time we especially didn't want to be breathing in metal dust.
Sand the painted area around the holes down to bare metal, for the best adhesive bond. This took longer than expected since we were doing it upside down with metal dust raining down on us.
Apply the adhesive generously onto the steel patches. This was surprisingly a two-person job: it worked best when one was pressing down hard on the lever and the other guiding the tip.
After the adhesive dries, use bedliner (or other durable sealant) over the entire area to protect the metal from rust. We applied two layers.
So far the patches have worked perfectly and we haven't had any leaking from those holes since.
Next step: another ceiling hole!!! We just got a MaxxAir fan and can't wait to put it in for the summer.